(c) NDORMS, University of Oxford

(c) NDORMS, University of Oxford

(c) NDORMS, University of Oxford

(c) NDORMS, University of Oxford

(c) NDORMS, University of Oxford

(c) NDORMS, University of Oxford

(c) NDORMS, University of Oxford

(c) NDORMS, University of Oxford

(c) NDORMS, University of Oxford
Repurposing Anti-TNF for treating Dupuytren's disease
Latest participant recruited from:
RIDD-2 : Oxford
Date of most recent recruitment:
Monday, 8th May 2017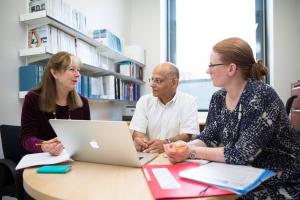 (c) NDORMS, University of Oxford
The Early Disease Trial is recruiting 138 people with early, progressing Dupuytren's and is now open in Oxford. The effect of anti-TNF is compared with saline placebo, and neither participants nor therapists know who has received which. This type of blinded trial prevents bias in the results and is the best way of fairly testing whether a therapy works. [Read more]
We are also running another study, called DISCO, to find out more about Dupuytren's disease in the community - how it progresses and the impact it has on daily life. [Read more]
The Dose-Response part of the trial used different doses of anti-TNF to investigate the effects on Dupuytren's cells. Participants had advanced contracture and were due to have fasciectomy to remove the diseased tissue. The removed cells were then examined in our lab. [Read more]
(c) NDORMS, University of Oxford
In Dupuytren's disease, cells called myofibroblasts accumulate in the palm of the hand and cause the build up of fibrous nodules and cords that connect to tendons in the finger. These cords pull affected fingers towards the palm leading to Dupuytren's contracture. Research suggests that white blood cells stimulate myofibroblast activity by secreting the inflammatory protein TNF.
This trial is an example of translational research, otherwise known as "bench-to-bedside". Translational research uses knowledge gained from lab-based science experiments to develop new treatments for diseases. The RIDD trial has been based on the lab results of Prof. Nanchahal's research group which have suggested that anti-TNF therapy, which has been used worldwide for around twenty years, may "switch off" the inflammation underlying Dupuytren's disease and thereby stop or slow its progression. [Read more]
(c) NDORMS, University of Oxford
The Kennedy Institute
Welcome to Lennart Steenbeek from the Netherlands who is joining us for 5 months. He is working on the RIDD trial.
"Systematic review of non-surgical treatments for early Dupuytren's disease" Our team has reviewed all published research papers on non-surgical treatments for early Dupuytren's (e.g. radiotherapy, drug trials, physiotherapy) and compared the results. Reviewing all research likes this enables us to see if there is mounting evidence that a treatment works, or if there are common trial designs or shortcomings in trial design. Unfortunately many studies did not recruit enough people to show a clear result, and many studies were poorly designed. The full article can be read online. 17 Aug 2016.